Web analytics
Web analytics comprises of different methods to collect and analyze data to improve the online presence of your business. Web analytics enables you to observe and understand your users behavior, spot trends and patterns on- and off-site.
With web analysis you find out where your customers come from (click path), or measure the effectiveness of your campaigns and site performance. For instance, bounce rate may signal that the site doesn't interest visitors. On the other hand, a high conversion rate shows you the best performing content.
Based on this data, draw up a marketing strategy that fits your bill. Personalize content, optimize user experience and track the performance of individual pages such as blog posts and landing pages.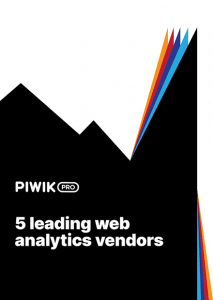 Comparison of the 5 leading enterprise-ready web analytics vendors
Download your copy
Read more about web analytics on the Piwik PRO blog: